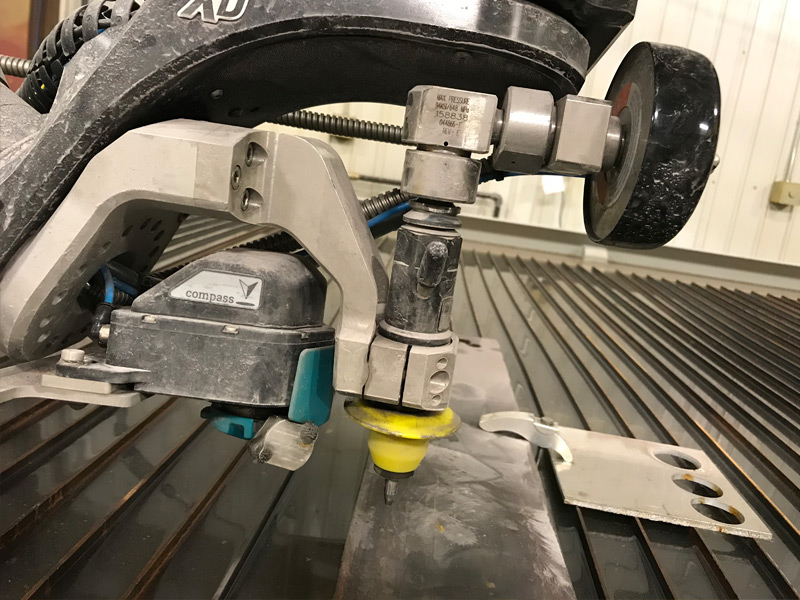 Tru Arc Fabrication is pleased to add waterjet cutting services to our fabrication capabilities. Waterjet is a high pressure cutting system that combines water and abrasive to cut through practically any material with a superior quality edge.
Please contact us to discuss your material cutting needs, we look forward to working with you!
View Our Project Gallery
How Waterjet Cutting Works
The advantages to waterjet over plasma cutting are minimal part stress or thermal distortion, we can produce a precision part from the thinnest material or countersink bolt holes in 2.5 inch hardened steel. Our 5-axis machine is capable of creating a complex 3-dimensional part or a simple beveled edge with a tolerance of +/- .002". The finished edges are clean and burr-free, eliminating the need for further handling to reduce overall costs.
Waterjet cutting has the flexibility to cut through almost any material, from the softest foam or rubber for your gasket needs to the hardest AR plate or high temperature alloy. Tru Arc Fabrication can cut any material to your precise specifications, we are happy to work with you to create the design or work from an existing drawing.
Waterjet Capabilities

Cutting width: 78 in
Cutting Length: 150 in
Material Thickness: .002in to 10"
Waterjet Pressure: 87,000 psi
Tolerance: +/- .002 in
Cutting Axis: 5 axis
Lead Time: 1 week standard, Emergency services available

File Formats